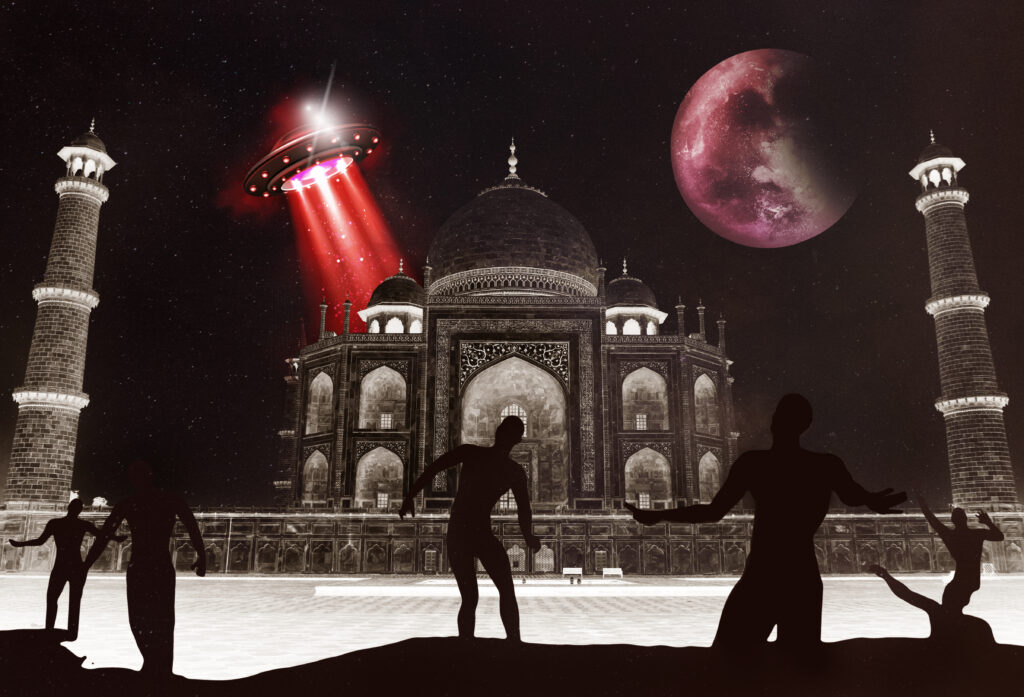 These are the days of monsters in
South Asia.
Monsters become critiques of political, religious and environmental concerns across mediums. Zombies, for example, are the metaphorical reimaginings of a society's "others" since a "semiotic fecundity" enables them to "bear a variety of cultural concerns" across contexts (Lauro xi)[1]. "Jihadism" turns into a zombie infection in New Delhi in the novel Zombiestan (2012). A recreational "Russian" drug turns partygoers into flesh-craving zombies in the Bollywood film Go Goa Gone (2013). An undead "British" Lieutenant Colonel commands a zombie horde in India's troubled "Red Corridor" in the web series Betaal (2020).
These narratives negotiate with the material realities of contemporary South Asia: analogies of our real world intersect with the imagined world of Science Fiction (SF).[2] South Asian SF inaugurates futures where contesting ideologies appear as monsters: "symbolic expressions of cultural unease that pervade a society and shape its collective behavior".[3] These "monsters" appear where (and whenever) "knowledge/power assemblages emerge"[4], and SF, a genre/mode of "technologically saturated societies"[5], becomes a logical entry into the altars of alterity.
Such realities call for a critical intervention – and an incessant evaluation. The neoMONSTERS project was thus born. "The neoMONSTERS Within: The Others in India's Science Fiction" interrogates the metaphorical reimaginings of the 'other' and studies the portrayal(s) of alterity vis-a-vis specific material realities. The project maps alternate presents and fictional futures in contemporary India's popular imagination and hunts for the aforementioned neoMONSTERS: Mutating/Mutagenic Ontological Narratives in Space-Time Echoing Realistic Situations.
[1] Zombie Theory (Minnesota UP, 2017)
[2] Darko Suvin quoted in Csicsery-Ronay Jr.'s The Seven Beauties of Science Fiction (Wesleyan UP, 2008)
[3] Monster Theory (Minnesota UP, 1996)
[4] Luciano Nuzzo's "Foucault and the Enigma of the Monster", International Journal for the Semiotics of Law (2013) 26:55–72.
[5] Roger Luckhurt, Science Fiction (Polity, 2005)
About the Researcher
Sami Ahmad Khan is a writer, academic and documentary producer. He writes, researches, edits and teaches Indian Science Fiction. Sami is the recipient of a Fulbright grant to the University of Iowa, USA, and holds a PhD in Science Fiction from Jawaharlal Nehru University (JNU), New Delhi. His future-war thriller Red Jihad won two awards and his second (invasion) novel – Aliens in Delhi – garnered rave reviews. Sami's creative writings and critical essays have appeared in leading journals, anthologies and magazines, his overview of Indian SF has been translated into Czech, and his fiction has been the subject of formal academic research. Sami has taught at IIT Delhi, JNU, JGU and GGSIP University. Sami has published (or has forthcoming work) in leading academic journals (Science Fiction Studies, Fafnir), university presses (MIT Press, University of Wales Press), and trade imprints (Gollancz, Hachette, Bloomsbury, Routledge, Rupa, Juggernaut, Niyogi) etc. His latest book is Star Warriors of the Modern Raj: Materiality, Mythology and Technology of Indian Science Fiction (University of Wales Press, 2021). He is presently a Marie Sklodowska-Curie Actions Fellow at the University of Oslo, Norway.